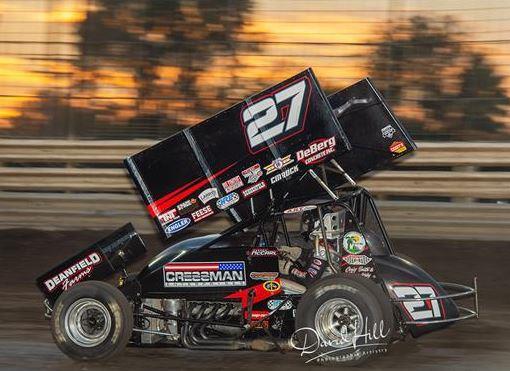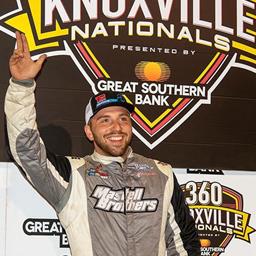 ---
Carson McCarl – Hard Chargin' Into Nationals
Dallas, TX (July 31, 2019) – In a week where Carson McCarl took his Jetco Electric #27 to three different racetracks in the state of Iowa, he scored two top tens and a top five, while picking up two Hard Charger awards. Now he sets his sights on the Knoxville 360 Nationals, where he'll be looking to earn as many points as possible this Thursday night!
Carson kicked off the week early with a Tuesday night show at Rapid Speedway in Rock Rapids, Iowa with the MSTS sprint cars and had a bit of a setback to begin the night. "Got into a bit of an accident at the beginning of our heat race that caused us to have to restart from the rear," said Carson. "I was able to get back to 5th, which buried us pretty deep on the starting grid for the A."
Starting 21st in the A-main, McCarl would make moves early to get into the top ten and end up taking home the Hard Charger award for the night. "The car felt great in the feature and we were able to make our way forward fast after starting deep in the field," said Carson. "I was able to run up into the top ten before the track took rubber and we had to settle for 9th, but we earned the Hard Charger award, which was great."
Needing to make a quick mid-week turnaround, Carson would haul his Searsboro Telephone Co. #27 across the state from northwest Iowa on Tuesday to far east Iowa on Wednesday, to run at Dubuque Speedway with the Sprint Invaders. "After a long trip over to Dubuque, we got our night started with a pretty uneventful heat race where we moved up one spot from 5th to fourth," said Carson. "We needed to move up another couple spots to make the dash, so we knew we'd be starting pretty deep in the A."
Taking off from the outside of the sixth row in the main event, McCarl would use a great start to kickstart his drive to a top five. "I got an awesome start in the feature and moved quickly into the top ten," said Carson. "I picked off another few spots to get up to 5th, but I moved around too much on the track as the race wore on. I think that I needed to get up and stay on the cushion, but we earned another Hard Charger and had a clean night."
Saturday at Knoxville Raceway saw over 50 cars in the 360 division, with the field split into two qualifying groups. Carson would qualify 4th in the second group, setting himself up well for a solid points night. "Our qualifying time was great on Saturday and that bodes well for our qualifying night at the 360 Nationals," said McCarl. "We started 5th in our heat and had a good run up to second, which earned us the pole for the A-main."
As the polesitter, Carson would settle into second early, though a too tight racecar would make it a tough 18 laps. "We had tightened the car up too much for the A-main and there was more moisture left in the track than we had thought," said Carson. "The cushion stayed strong throughout the race and we fell back a bit to finish 6th. I was definitely a bit disappointed, but it was still a great points night and we learned a lot for this weekend."
Carson will have the #27 back on the track this Thursday night for his qualifying night at the 360 Knoxville Nationals, before hitting the track again on Saturday (hopefully locked in to the main event)!
McCarl Family Websites!
Driverwebsites.com develops the websites for the McCarl boys. Check out www.CarsonMcCarl.com, as well as www.AustinMcCarl.com and www.TerryMcCarl.com!
Catching Up with Carson:
Never miss out on any updates from Carson McCarl, as he chases the 360 Track Championship at the Knoxville Raceway! To receive all of Carson's press releases and stories, send an e-mail to broegracewriting@gmail.com with "Carson" in the subject line.
Carson would like to thank his great list of partners for the 2019 season: Jetco Electric, Don Long's Searsboro Telephone Company, Deanfield Farms, Blondie Motorsports, City Vending, DeBerg Concrete, Space Cowboy Motorsports, Mobile Dent Service, Feese Family Insurance, Larry's Window Service, Craig Smith & Colleen Kelly, TNT & Liquid Lou, Kustom Race Parts, HRP, Aurora Rod Ends, Bell Helmets, BMRS, Burnett's Rock & Landscaping, CM Rock, Crow Safety, Engler Injection, Justice Bros./Gillund Ent., KC Breweries, Octane Ink, Pro Shocks, Schoenfeld Headers, Sposato Paint, Winters Performance.
Photo Credit: Dave Hill
Morgan Broeg
Dallas, TX USA
broegracewriting@gmail.com
Twitter: @BroegW
Back to News