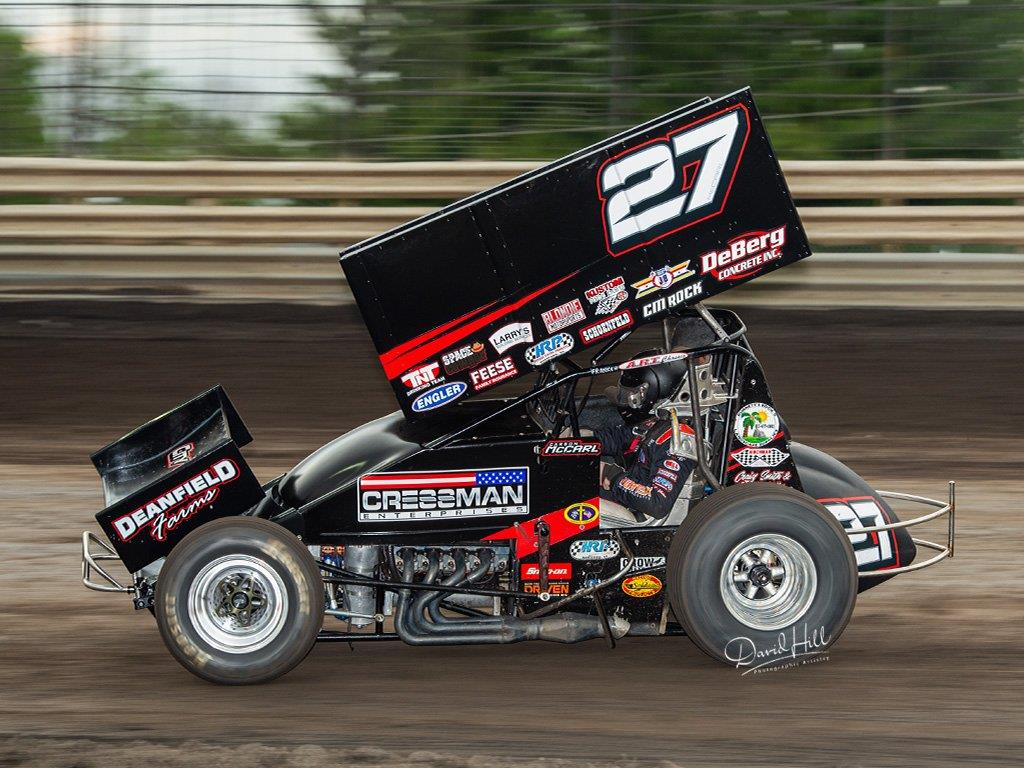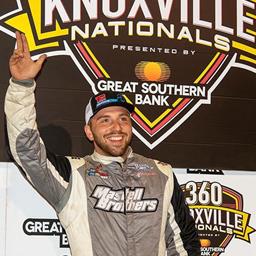 ---
Carson McCarl – Stuck in the Middle
Dallas, TX (July 17, 2019) – It was another strong finish at Knoxville Raceway for current 360 point leader Carson McCarl, as he scored his second podium of the season last Saturday. Now it's time for one of the most crucial weekends of the year, as it will be double features for the 360 class this Saturday night!
Carson kicked off the night going out late in qualifying and was unhappy with the result. "I was a little disappointed with our qualifying effort," said McCarl. "I used the bottom and that was a bad choice, I definitely should have been up top, which left us 10th."
After starting fourth in his heat, Carson was able to charge to a runner-up finish, racking up enough points to earn a starting spot on the inside of the third row for the night's A-main. At the start of the feature, Carson struggled to find his groove. "I just wasn't really able to get things going early on," said Carson. "It just didn't feel like we could gain on anyone at the start of the race."
A mid-race caution would prove the turning point for McCarl, as he would shoot from fifth to 3rd on the restart using a unique line. "Going into turn one on the restart I was able to run a line that was one up from the bottom and get up into the top three," said Carson. "I was basically putting my left front about a foot from their right rears and it worked perfectly."
The same line would be effective in helping Carson gain the runner-up position a few laps later, getting past Ryan Giles. "I was able to get by Giles not too long after I had moved into third," said Carson. "Part of me was thinking that I could get up and challenge for the lead, but that didn't last long."
While the middle lane allowed McCarl to wheel the Jetco Electric #27 to second, he would end up holding the line a bit too long. "I definitely stuck to the middle for too long in the race," said Carson. "It went away some in the closing laps and Jamie Ball was able to get by us, but it was still a podium and I can't complain about that!"
Coming out of the weekend still atop the 360 point standings at the Knoxville Raceway, Carson is looking forward to this Saturday where he'll have two features to try and increase his lead. "It feels great to be where we are in the points at this time and I'm excited to get out there on Saturday and hopefully replicate the type of finishes we've been having lately," said McCarl.
Be sure to make it out to Knoxville this Saturday night to watch Carson go for the win twice in one night at the famed half-mile!
McCarl Family Websites!
Driverwebsites.com develops the websites for the McCarl boys. Check out www.CarsonMcCarl.com, as well as www.AustinMcCarl.com and www.TerryMcCarl.com!
Catching Up with Carson:
Never miss out on any updates from Carson McCarl, as he chases the 360 Track Championship at the Knoxville Raceway! To receive all of Carson's press releases and stories, send an e-mail to broegracewriting@gmail.com with "Carson" in the subject line.
Carson would like to thank his great list of partners for the 2019 season: Jetco Electric, Deanfield Farms, Blondie Motorsports, City Vending, DeBerg Concrete, Space Cowboy Motorsports, Mobile Dent Service, Feese Family Insurance, Larry's Window Service, Craig Smith & Colleen Kelly, TNT & Liquid Lou, Kustom Race Parts, HRP, Aurora Rod Ends, Bell Helmets, BMRS, Burnett's Rock & Landscaping, CM Rock, Crow Safety, Engler Injection, Justice Bros./Gillund Ent., KC Breweries, Octane Ink, Pro Shocks, Schoenfeld Headers, Sposato Paint, Winters Performance.
Photo Credit: Dave Hill
Morgan Broeg
Dallas, TX USA
broegracewriting@gmail.com
Twitter: @BroegW
Back to News